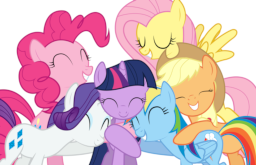 ... keeps the writer's block at bay!
This is a collection of short pieces done as a challenge to myself to write more often. I'll write a little something, even if that little something is really a tiny something, or maybe even a teeny something, until I reach one hundred prompts. Even the little things can count in practice after all!
To start we have: Fluttershy and Applejack cuddle.
Twilight tries to have a lazy day.
Rainbow Dash crashes into Rarity's shop.
And more!
Chapters (83)