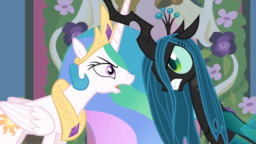 Two humans transformed into a changeling and a pegasus must survive the events after the royal wedding incident as an all out war is declared between the two races.
Jayden a human transformed into a changeling must fight to keep his identity a secret for the time being as he searches for a way to get to his friend and escape Equestria. Teen due to language involved.
Thanks for shadowless_night for the helping with plot and editor, and Boolyboo for helping me with great ideas and advice for my story.
Chapters (15)