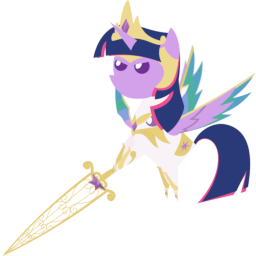 Source
Twilight Sparkle, Equestria's newest alicorn princess, is an intelligent mare, and the most powerful mage alive. Thanks to her and her friends, the magical world of ponies is at peace. But in that peace, her entire life has changed, and Twilight is no longer certain of her place in the world. How unfortunate, then, that a past she's never known is about to come calling.
After a mysterious stranger attempts to steal Twilight's magic crown, she must travel to another universe to confront the thief. There, she finds a world where magic and friendship simply do not work, and a school full of powerful adversaries who stand between her and her crown. If Twilight cannot retrieve it, her failure could mean the destruction of two worlds...
A fusion fic with Kill la Kill.
Rated teen for violence, more violence, some blood, explosions, ponified cursing, and more explosions and violence.
A note: it's not just about who stole the crown. It's also about why.
Cover art by... me.
---
Character replacement list:
Ryuko Matoi ----- Princess Twilight Sparkle
Satsuki Kiryuin ----- Princess Mi Amore Cadenza
Ragyo Kiryuin ----- (hasn't been revealed in story yet)
Junketsu ----- Tantabus
Senketsu ----- Cell (Celestia {possibly} in armor form)
Ira Gamagoori ----- Shining Armor
Uzu Sanageyama ----- Rainbow Dash
Houka Inumuta ----- Fluttershy
Nonon Jakuzure ----- Pinkamena Diane Pie
Shirou Iori ----- Rarity
Mitsuzou Soroi ----- Spike
Takaharu Fukuroda ----- Bulk Biceps
Omiko Hakodate ----- Lightning Dust
Maiko Ogure ----- Trixie Lulamoon
Barazou Mankanshoku ----- Bic Mac
Sukuyo Mankanshoku ----- Cheerilee
Mako Mankanshoku ----- Derpy Whooves
Mataro Mankanshoku ----- Dinky Do
Guts ----- Berry Punch
Aikurou Mikisugi ----- Zecora
Tsumugu Kinagase ----- Gilda
Kaneo Takarada ----- (hasn't appeared yet)
Nui Harime ----- (hasn't appeared yet)
Rei Hououmaru ----- (hasn't appeared yet)
Chapters (7)