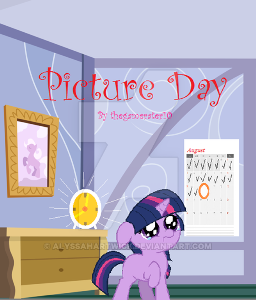 Twilight woke up to a horrific sight: she overslept and is late on Picture Day! Will she be able to make it on time for a good picture, or will she end up with a blank slot in the school yearbook?
~~~~~
Based on semi-true events that happened to me on August 17, 2016. I wasn't late on this particular Picture Day, but there was a mix-up. The only good thing that came out of it was inspiration.
This is story is kind of a spiritual successor to my first successful story on this site, Twilight's Name Tag is Missing (read that, by the way; see how I've evolved from novice writer to pretty decent writer). Hope you enjoy!
"Tragedy" tag is used as a joke.
Follow the awesome artist, Alyssa Hartwick, right here: Hit that Follow button nice and good!
Chapters (1)