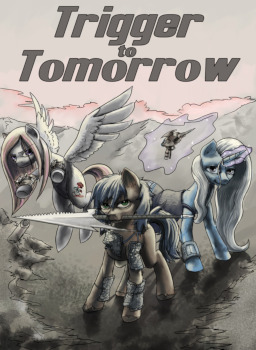 Years after the Stable Dweller's journey to restore Equestria the world is still slowly recovering. Many parts of the world remain radioactive Wasteland despite the efforts of the NCR. In the far flung northeast region around the former city of Detrot the land remains a harsh, violent place. Living in a secluded mountain valley at the edge of this region, Longwalk is a colt ignorant of the larger Wasteland. His tribe has lived in isolation for generations, and he knows nothing of the world beyond the ten miles surrounding his remote mountain village.
All of that is about to change. Dragging a friend along to explore beyond the boundaries his tribe's laws allow, Longwalk makes a startling discovery; one that prompts a journey of his own out into the Wasteland with a mysterious unicorn filly at his side. Before he knows it Longwalk is caught in a dangerous web of Wasteland politics, powerful pre-war organizations, ancient death-filled ruins, and a growing cadre of unusual companions... each with secrets of their own.
Based on the wonderful Fallout Equestria by Kkat, and the Wild Arms video game series by Media Vision.
Pre-read by Doomande, an all around awesome dude.
Cover art by SpyroConspirator, a very talented artist.
Completed side-story featuring Crossfire found here.
Chapters (37)