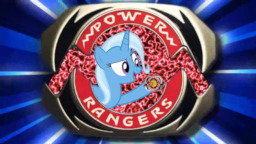 It's your typical day in Ponyville. A monster attack. Epic battle with costumed superheroes. Senseless property damage. Not really something for Trixie, the leader of said heroes, to really concern herself with. What does concern her is this strange new unicorn named Twilight Sparkle that has come to town. She's asking nosy questions and trying to learn everything she can about the town's local heroes the Galaxy Rangers. Trixie just knows that this pony is up to no good and can tell she has sinister motives. Trixie is determined to protect her friends and stop whatever this pony is planning.
Unbeknownst to Trixie, Corona, the Tyrant Sun, is plotting a new scheme to defeat the Galaxy Rangers once and for all. One that will leave the Galaxy Rangers broken. A new breed of monsters with the magic and intellect of a pony and with power that dwarfs even the Tyrant Sun herself.
A Lunaverse spinoff story.
This is a sorta sequel to Longest Night, Longest Day by RainbowDoubleDash. Not required reading, but check it out if you are interested. There are a few key differences from LNLD and the normal Lunaverse and they will be explained in story.
Vector by Tardifice
Morphing Template by Korense
Power Ranger copyright of Haim Saban.
Thank you Talon and Thorn for prereading this story.
Chapters (8)