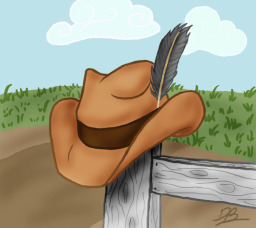 We live, we love, we lose. The circle always goes on, never ending, joy following pain following joy. Or at least that's the story, anyway. After losing everything, Dusk Chaser must ask himself if it's really true, and if there is a way to rebuild a life lost.
This story takes place approximately two years after the end of season 2, ignoring whatever happens in following seasons. Rated teen for semi-adult themes of death and loss, and some intense dream sequences.
Special thanks to DiveBomb for the cover art! I love it!
Extra special thanks to my editing crew:
Daetrin - Spabble - loststone
This story would not exist at all without their encouragement and exemplary skills.
- - - - -
Hey, everyone. OtterMatt here. Just for the record, I'm not coming back to FimFic. Not ever. I'm sorry to say it, but my life has moved on, as it were, and writing just isn't a part of it anymore. That being said, I love these stories of mine very much. There's a lot of myself that I put into them, and at least a couple people have told me that these stories meant a lot to them as well. So, for those people, and for anyone else who enjoys my work in the future, I'm charging my friend Spabble here with curating my completed stories. Thank you all for the love, the faves, and the support as I grew and learned. Keep doing what you love, and the best of luck to you all.
Chapters (12)