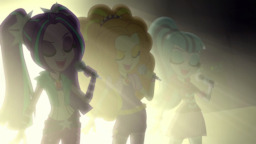 Three sirens sit backstage immediately after Rainbow Rocks, publicly defeated by the Rainbooms and stripped of their magic jewels. Will they regroup and attack from a different angle? Find a way to fix their pendants? Self-destruct? Or find redemption?
How do you keep going when you sing the line 'Nothing can stop us now,' and then something does?
There shouldn't be any spoilers for anything post-Rainbow Rocks.
Chapters (4)