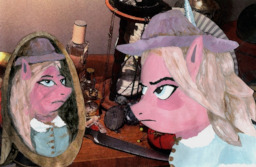 A Canterlot matron has been left widowed by a rampant criminal. She ventures on a quest to regain her honor, and to bring her tormentor to justice.
A spin-off sequel and homage to My Final Confession by the illustrious jmj, titan of MLP horror. Written in collaboration with jmj. Set in the jmj-verse. Seriously folks, read his stories.
Now with audio reading, performed by TheDizzyDan!
Artwork courtesy of RoseGold
Disclaimer:
-Reading the original story would be beneficial to understanding this one, although it isn't necessary. But you should totally read the original regardless.
-This story is derived from the sacred foundation of the MLP fandom, Cupcakes. If you dislike the Cupcakes literary genre, chances are you won't enjoy the story.
-Please take note of the tags.
Chapters (1)