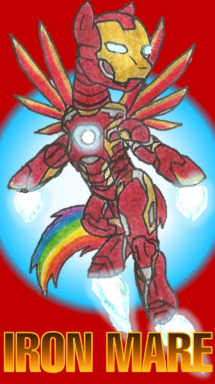 Source
Genius. Billionaire. Playmare. Philanthropist. Industrialist. Inventor.
Rainbow Dash is all of these things and none of these things. On second thought, she's all of them fused together. While on a military tour across the Arabian deserts to present her new weapons, Rainbow Dash's convoy comes under fire by an ambush set up by terrorists. They capture and force her to build devastating weapons for them. Instead, she builds an armored suit and escapes her captors. Returning to Equestria, Dash decides to fight crime and terrorism as the IRON MARE.
Art by Iven-Furrpaw
Please contribute to the Tropes Page.
Chapters (1)