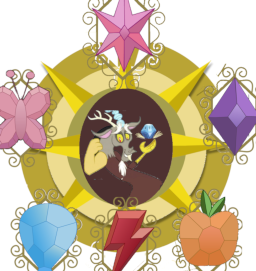 Source
This story is a sequel to The King Who Would Be Man
---
Commission for SoundLogic. I've finally decided I know enough about the plot of where this is going that I can start posting it, though posts will go to my Patreon a month before appearing here, in future.
Set in Next of Kin to Chaos, post-Deja Q in Star Trek TNG, fourth season MLP. Twilight's ascended to become an alicorn, but none of her friends have. Discord once promised Celestia he wouldn't do anything to change that status. But when you're billions of years old, the idea of the first friend you believe you ever had dying within a century is unbearable. And Discord doesn't always keep his promises.
Tags will change as more gets written.
Chapters (2)