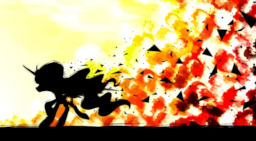 Source
After Luna's banishment, a guilt filled Celestia searches for answers. Trying to gain a new understanding of what caused her sister's misery, she visits the valley that once housed Starswirl the Bearded as well as Luna and herself many years ago. It is here that she believed everything started.
She finds so much more than she asked for.
---
This story now has a review by PresentPerfect that's filled with spoilers. You can find it here! Now featured by Equestria Daily! There's an SA review now too. It has spoilers, but you can check it out here. Partially inspired by, but has no relation to The Last Dreams of Pony Island by horizon. Former cover art source. Current art by flamevulture17. Now with spiritual successors: Bathophobia and Atelophobia. Rated 'Pretty Good' by PaulAsaran in an in-depth and spoiler-filled review. Contribute to the TVTropes page!
Chapters (17)