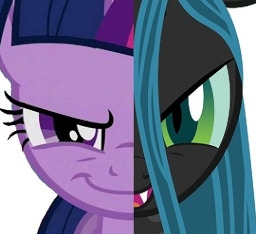 It has been several years since Chrysalis' defeat during the Canterlot invasion. Since then, the fortunes of her changelings and kingdom have rapidly declined. With mass starvation, ponies capturing more of her spies and love collectors every day, and her own powers diminished to the point of being a complete non-threat to her enemies, she fears that it may soon be over for both herself and her entire race.
As Chrysalis reminisces about past failures, a pony named Time Keeper crashes a large metal box into her bedchambers. He claims to not only be a time traveller but also to have accidentally killed Twilight Sparkle on the day she was supposed to go to Ponyville to defeat Nightmare Moon.
In an effort to avoid the prospect of the universe tearing itself apart at the seams from the ensuing paradox, Chrysalis agrees to go back in time and live out a facsimile of Twilight's life herself, and if time allows, she'll work on her own little project: shaping the future more to her own liking.
Chapters (23)