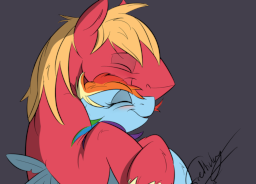 Source
Every year for the last eighteen years, Mac has made a trip to visit his parents' grave. Every year he cries himself to sleep, waking up the morning after, feeling just as alone as the night before.
But not this year. This year Mac is going to take his new marefriend, Rainbow Dash, to meet his parents, and she intends to break the cycle.
---
Written for Captain Unstoppable's MacDash Challenge.
Chapters (1)