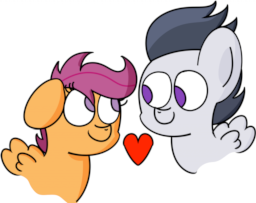 Source
This story is a sequel to Someone Still Loves You
---
While editing Someone Still Loves You for Jowijo, I've suggested a couple different alternate scenes that didn't make it into the final product. I'm kind-of attached to these scenes, so I've decided to post 'em here.
Context is kinda necessary for understanding these, so go and read the original, if you haven't already. Also, make sure to show Jowijo some love in the comments!
Next chapter posts after SSLY completes.
---
If you liked these, please consider checking out my other stories:
My Sister Fluttershy: Fluttershy's older sister tells of Fluttershy's childhood and disappearance.
Whiskey Tango Foxtrot: Single-mother Pinkie Pie tries to raise her three triplets on her own.
For the Good of Equestria: Princess Celestia tells of her battles with Discord and King Sombra.
Chapters (3)