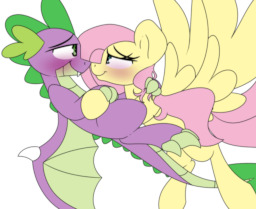 Source
In a land outside of the borders of Equestria, a horrible practice of dragon slaving exists. Spike, a purple dragon almost reaching adulthood, one day escaped from his owners. After two years of harsh lonely living, he finds himself in the care of Fluttershy, at the edge of the Everfree.
While the town of Ponyville greets him with warm hearts and tearful pity of his past, Spike cannot trust a single pony, due to his whole life having been under the race's iron rule. Reluctant to see him depressed and afraid, Fluttershy tries to take it upon herself to help Spike reintegrate into a normal life. Along the way, she finds out more about what it can mean to show kindness to someone whose never seen a hoof held out to help them.
Unfortunately for the town, Spike's last owner isn't about to have his property escape, and will do anything to retrieve his dragon back.
---
Cover-art by Korgikardigan. While showing Flutterspike, it won't be his only romantic choice. C'mon, we gotta make love more interesting than just one ship...
This is somewhat following after Season 4 ending. Any events that needed Spike are changed, sometimes to weirder effects.
Chapters (2)