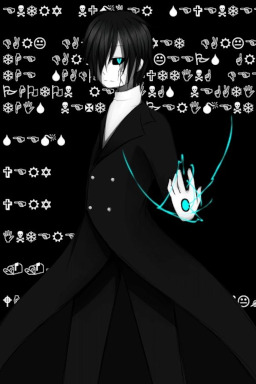 Hardly a week has passed since the Changeling Invasion when the Mane 6 and Spike are asked to investigate a strange building deep within the Nightshade Woods that alicorns can't seem to penetrate and The Royal Guard keeps getting scared out of. Inside the building, the Elements of Harmony meet a mysterious entity who calls himself Dr. W.D. Gaster, who's apparently been spying on them ever since the Mane 6 all earned their Cutie Marks at the same time, his reason being to determine if they would be strong enough to help him protect their timeline from certain anomalies that were causing various other timelines to stop, start, jump left and right, and even be completely obliterated. As a result of both Gaster's warning as well as his mysterious nature, Twilight and her friends bring him before Princess Celestia.
Meanwhile, a fifteen year old boy named Frisk exits a portal of some kind, along with his evil split personality/hallucination, Chara Dreemurr, who's eager to not only seize total control over Frisk's mind and body, but to begin his favorite pastime: genocide and destroying the timeline, a mission that only gets complicated when Frisk falls for a girl around his age named Scootaloo.
Will Dr. Gaster be able to win over the support of the Mane 6 and the Princesses, and put a stop to Chara's schemes for mass murder and meyhem? Will Frisk and Scootaloo be able to live happily ever after? Or will Chara send all of Gaia on a one-way trip to his special hell?
An Undertale Crossover. All ponies, griffons, changelings, etc have been humanized to a certain extent. Contains Dr. Gaster X Twilight Sparkle and Frisk X Scootaloo.
My Little Pony is owned by an Equine Goddess named Lauren Faust and a toy company named Hasbro.
Undertale is owned by an annoying reality-warping dog named Toby Fox.
Chapters (1)