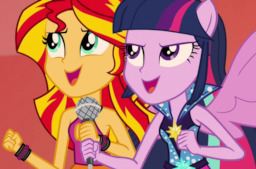 This story is a sequel to A Sun's Secret
---
Three months.
Three months since Luna discovered Sunset Shimmer was Celestia's daughter. Since then, Celestia has backed down from her promise to tell Sunset the truth.
Three months.
Sunset Shimmer's birthday is in three months.
Princess Luna is determined to reunite mother and daughter for the first time in years. The only way she can accomplish this is by enlisting Twilight Sparkle to help her convince Sunset Shimmer to return to Equestria for her birthday. But this requires more than a chat. It requires secrecy, breaking a silent promise, and hoping Twilight Sparkle can get the job done.
---
Reading the first story is heavily recommended.
Chapters (3)