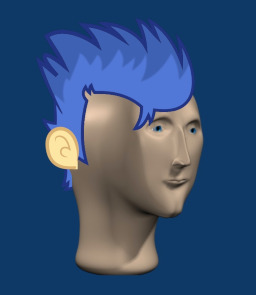 Source
Everybody loves Flash Sentry. Well, everybody except Flash Sentry, which is exactly why he's trying to convince everyone else to hate him while unknowingly going about his own ironic existence.
---
Inspired by the 'Self-loathing Flash Sentry' idea at the OC panel at BronyCon 2016 which was proposed by Razalon The Lizardman.
'Other' tag is for background EqG characters and anyone else who isn't Flash.
Don't take this story seriously and I'm totally not responsible if you're injured.
With help from ElderXelpud, who made the cover art.
Chapters (1)