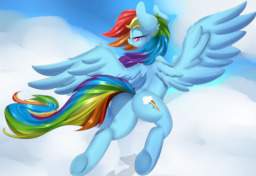 Thank you to everyone who helped me write this story while I was at Bronycon!
Rainbow Dash has a problem. Whenever the weather is bad, (due to her own idiocy) she goes to the local lesbian bar and gets completely hammered. Twilight has had enough of it. She says that to keep Rainbow from drinking and sleeping around, Rainbow must get herself a good marefriend. That way, Dash will stop ending up in Twilight's house. So Dash goes on the hunt for the best mares in Ponyville.
Queen Chrysalis also has a problem. She wants to take the elements of harmony out of the picture, but she doesn't know how. When a drone tells her that she can take out the mane six by 'getting in' with them, she sets out to seduce one or more of the pastel horses. When she hears that Rainbow is on the market, she turns herself into a stallion that the Queen thinks the blue pegasus would love.
Unfortunately for The Queen, Rainbow is into mares, and she is too dense to figure it out.
Written for F*** THIS PROMPT competition that can be found here. The prompt was Rainbow Dash is a lesbian.
This story has cursing, sex jokes, and jokes about lesbians. None of the things in this story are meant to offend, but be wary that the faint of heart or easily offended may not want to read. For the sake of making the story more adult in nature some of the characters do or say things that may seem out of their cannon character. That's the way it is when you make a more adult story about cartoon horses. You have been warned.
Chapters (1)