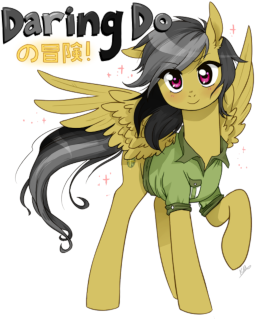 Daring Do goes to retrieve an ancient artifact. It is a journey of danger and darkness, that many embark on but few return from. And Daring braves it fiercely.
Naturally, she does so in the most awesome way possible. Just not as awesome as Rainbow Dash. But nearly.
Trigger alert: Contains DaringDash or whatever the hell it's called. I'm driving this ship harder than the Titanic. The fact that it sank should be absolutely irrelevant.
Written for the twelfth F*** This Prompt contest. It contains lesbian Rainbow Dash, so there.
Chapters (1)