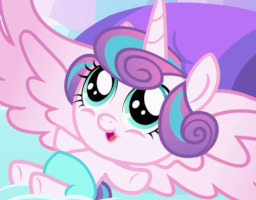 Source
If you're going to give a speech, it makes sense to know what your audience is like - what they're thinking about, how they're feeling, and so on.
Theoretically, this means that a spell that lets you scan the surface of the thoughts of ponies - just for brief emotional impulses and surface thoughts, and all that - should help anypony give a better speech. I mean, getting a peek inside the heads of everypony present should be strictly a good thing, right?
Right?
Inspired by the description of a story. No, really. If i was given a penny for all the things in life that i found disproportionately funny, I'd have enough copper to provide electricity to all of Tokyo, and that's even given how little copper pennies actually have these days.
My heartfelt thanks to Majin Syeekoh for proofreading this, and also for not suing my butt. You're the best, dude.
Chapters (1)