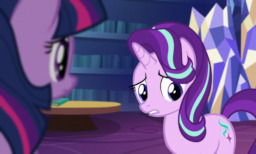 Source
After a long hard day of friendship lessons Twilight settles down with Spike to look through her old photo album. Starlight's reaction to one of the photos brings a shocking secret to light. Starlight is a mother, and she does not know to whom.
Twilight and her friends now want to help Starlight find her long lost foal, while trying to puzzle out just how a mother could not know her own foal. Starlight meanwhile is trying to decide whether to bury the past, or drag it all up once again. Both will be painful, but the question remains. Which one would hurt the least, for all involved?
Several truths are revealed, and motivations are uncovered. When everything is laid bare how will everyone react? Will Starlight's life be turned upside down, even in this time of change for the former villain?
Chapters (14)