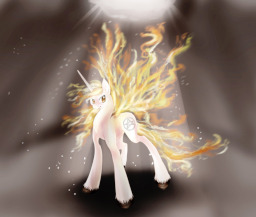 Source
The vampires of the Red Court are vile and cunning creatures, they attempt to conquer or destroy everything around them. Now a small group of the vampires have stumbled across a new world to take for their own, but they did not come alone. Wizard Harry Dresden and Knight of the Cross Michael Carpenter chased after the creatures and now find themselves trapped in the same world the vampires are slowly taking. They must lend their experience to the local inhabitants if they are to fight off the growing horde, and the new Red King.
I will explain the Dresden history as it becomes relevant to the story. So it is not necessary to have read the Dresden books to understand what's going on.
Edited by: NaughtSought
Takes place before the season three finale of MLP, and sometime after the events of the White Night novel. So no Princess Twilight or Winter Knight Harry, sorry. At the time of writing, I haven't read Cold Days or any novel onward, so please no spoilers in the comments.
I do not own any of the Dresden/MLP characters.
Chapters (30)