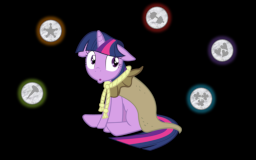 Adventure
Alternate Universe
Tragedy
---
This story is a sequel to
Boast Busted
---
Scholar … Prodigy … Fugitive …
After an unfortunate turn of events, Twilight Sparkle has found her self on the wrong side of the law and on the run. It wasn't her fault though, well maybe a little, but Trixie was the real criminal. That witch, she had tricked Twilight into all it! If only there was some way to prove to Princess Luna who the real Element of Magic should be.
If only there was some way…
────────────────
-- This story is set in RainbowDoubleDash's Lunaverse, and is a sequel to the events of Boast Busted. If you haven't already read that fic you should consider doing so for improved context.
-- Twilight Sparkle vector by Klarnetist