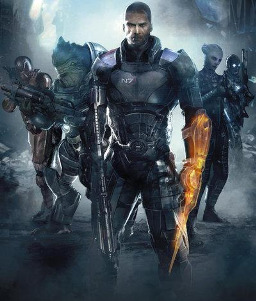 The Reaper War was a harsh and cruel mistress to the galaxy. Trillions of people died. Thousands of worlds burned. Annoying reporters got kneed in the stomach. But above all, tales of heroism; the Miracle at Palaven, the evacuation of Uqbar by a single Alliance ship, the reconciliation of the geth and the quarians over a century-long feud.
But above all else, the N7s.
While not technically N7s, Alliance Command was willing to let the name be used. The N7s were balls-to-the-wall hardcore badasses; four of them were usually enough to hold a position against endless waves of indoctrinated humans, rogue Geth, Reaper Husks, or Collectors, made of a species long passed. No species or gender was restricted because no species or gender was safe. And one of these teams - Aleph Squad, a six-man testament to diversity and asskickery, was one of the best of the best.
After the end of the War, however, Aleph Squad went MIA. Nobody knows what happened to them. Not even Aleph Squad knows what happened to them. All they know is this; something went really wrong with the Crucible, because now they're stuck on a planet full of colorful talking horses and they can't get off.
Chapters (7)