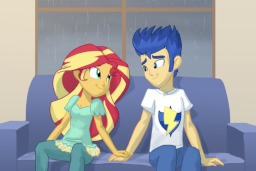 Source
With the kinds of thing that usually occupy their time, Sunset and Flash rarely have a chance to simply relax with each other. Well, today, that is exactly the kind of time they will have with one another.
A relaxing moment...that may well lead to something more.
---
Part of the Rainbooms/Dazzlings/Shadowbolts storyline
Cover art by Siansaar
Also, please note that while the sex tag is present, the act itself will merely be implied within the story.
Chapters (5)