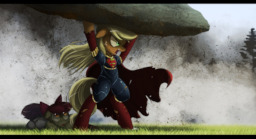 Source
When a mare with incredible superpowers dressed in a blue costume starts doing heroic acts in Equestria, Celestia recognizes the "S" on the mare's chest and tries to discover her identity, for she must know whether that overpowered being is a friend or a foe.
Note: Watching 'Man of Steel' (or any Superman movie) is not required to enjoy this story.
Cover art by NCMares used with permission.
Superhero combo: Supermare (Superman) and Wonder Mare (Wonder Woman).
Chapters (4)