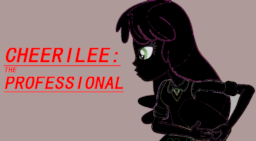 Source
They kidnapped one of the children under her care. Cheerilee couldn't stop it.
And in her mind, she had always considered herself a hero. Always thought of herself as someone who could win the fight, trick the villains and save the day. Her reality was shattered the day the child was stolen.
But she isn't giving up. She's decided to fight back. And with Sunset Shimmer's help, the two search for the kidnappers. But can they do what it takes to cross the lines that only the hardest hearts can cross? Can they be those dark heroes they've always imagined?
--You might like this story if you also like:--
The James Bond series of films
Everyday People Stepping Up and Doing Extraordinary Things
Vigilante Justice
Imaginative People Making their Imagination Reality
Cheerilee Becoming the Fighter She's Always Wanted to Be
Sunset Shimmer Fighting for What's Right
Chase Sequences and Fight Sequences
Moral Ambiguity like in Breaking Bad and Better Call Saul
Chapters (1)