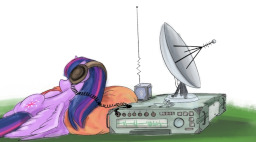 Source
Twilight's just been having one of those days, preforming experiments. However, when one of her experiments goes down the downright odd direction and she accidently taps into human radio, she makes use of this opportunity and tells her teacher in order to deceper the meaning of what she's heard. Of course, news travels fast in a small town like Ponyville and soon everypony wants a listen. And not everypony has good intentions...
Takes place after Rainbow Rocks. Sunlight romance and Doctor/Derpy shipping. Rated teen for the music used and ponies cursing and talking about the musical content.
Musical credits go to their proper owners and I make no money off of it. Inspired by this story:
http://www.fimfiction.net/story/132548/the-mane-six-discover-human-music
Takes place in the same universe as Framwinkle's story "Golden Oaks Reborn" (With permission) but reading that is not required. Edited and proofread by: Black_Knight
Art belongs to Flamevulture17 I believe so credit to them.
Reached over 1,000 views: Wow, just wow...
Reached over 2,000 views: Hell yes!

Chapters (25)