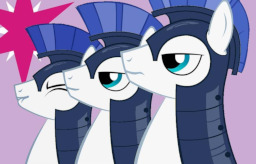 This story is a sequel to In Good Company
---
Lance Corporal Sure-Shot – a unicorn fresh out of the Sol Guard academy, intended to be one of Princess Celestia's elite protectors – is transferred to Shield Team of the Twilight Guard. Under Corporal Steel Block and accompanied by privates Mercury and Brute Force, the lance corporal will serve as Princess Twilight Sparkle's elite close-guard on a diplomatic mission to Saddle Arabia.
And in keeping with the usual 'first mission' tradition, all sorts of dookie hits the fan.
Rated Everyone for the lulz.
Chapters (1)