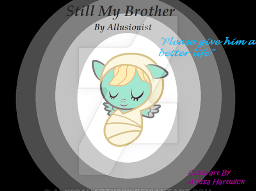 Source
Zephyr Breeze could never do anything right. He never felt loved, never felt wanted, and never felt like he belonged. He pushed on through his shortcomings only to see if there was a light at the end of the tunnel. But he never told his family how he felt.
Shortly after becoming an adult, he is in and out of homelessness, and only his parents could give him a place to stay. His older sister Fluttershy insists that he get a job, but he can't. He just can't.
He finally breaks down at his sisters as she asks him to leave there as well, and tells it all.
Overcome with pity for her hopeless and depressed brother, she reveals to him a secret that changes everything...
---
Got this idea while PMing a friend. Cover art by Alyssa Hartwick.
Chapters (1)