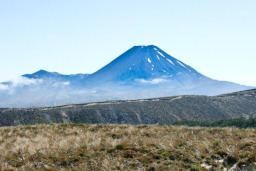 Source
Middle-earth. A green land of farmers. Long ago, it was inhabited by great warriors. Now, its violent history has been mostly consigned to history, with only small groups holding to their ancient ways.
Better known as New Zealand.
Mount Ngauruhoe. A towering volcanic peak of black stone. Currently quiet, it may yet erupt again, once more filling the land with smoke and fire.
Better known as Mount Doom.
With the Barrier closing in, a group of devout (and extremely psychotic) Tolkienites has noticed unusual amounts of activity from this famous volcano, and they decide to test a theory. The Barrier may destroy any humans that come in contact with it…
…but what about fallen Maiar?
This is what happens when I write tired and drunk, apparently.
Chapters (1)