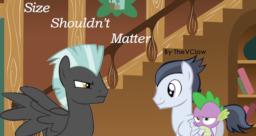 [NOTE: This is a Rumble/Spike ship. Also, both characters are aged up for this story]
Thunderlane wanted to be happy that his little brother found someone. He really did.
Ever since Rumble hit puberty, the Pegasus wanted him to find a special somepony to make him happy. And when his brother wanted him to meet who he was dating, Thunderlane was planning to be cool and courteous like a big brother should.
Unfortunately, that sorta went out the window when he saw that Rumble was with his old foalhood friend, Spike. And since Spike was still at his "baby" size, Thunderlane was more than a little uneasy about their relationship.
Major thanks to Dragonman461 for proofreading.
Chapters (1)