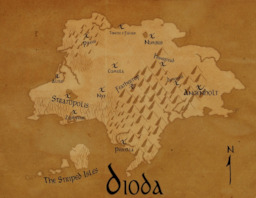 Source
"In the pegasus empire of Cirra, the quinquennial census of the population was incredibly important to taking stock of the resources of the empire. Two thousand years after Cirra's fall, the records kept by the censors offer an illuminating glimpse into what life was like for the pegasi and griffons in those ancient times. I have translated the personal records kept by one such censor, Aureus Primus, taken during the height of Cirran power in the Diodan continent. I present them here for you to read and learn more about this fascinating pegasus empire that we know so little about."
-T. Sparkle
---
Supplementary work to Of Skies Long Forgotten. It is strongly recommended that you take the time to read that story first before reading this one, as this story focuses more on the worldbuilding of the setting explored there, and contains some spoilers to the plot of that story as well.
Part of the Price of Loyalty storyverse.
Chapters (8)