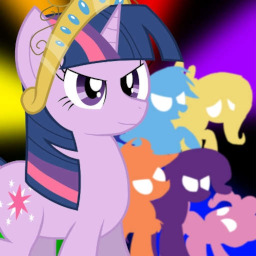 Source
Rainbow Dash hasn't been having a good time since Discord was defeated. Her supervisor suddenly thinks she can't handle a simple weather schedule. Her relay team all suddenly have a grudge against her. Something isn't right, and it's not limited to her. Applejack's family is watching over her like a jailhouse warden. Twilight is avoiding them all, visiting with strange ponies, and losing sleep on something she won't talk about. Pinkie Pie, and Rarity are both having problems they can't explain. And for Fluttershy, it's the worst of all.
Without Twilight's guidance, 5 ponies have to figure out what happened to the town, and why their lives are so messed up despite Discord being long gone. Somehow they have to get Twilight to open up to them again, and accept help from her friends. But nothing they do seems to work right. They're at a loss of what to make of any of this, until Rainbow Dash stumbles upon a truly chilling revalation, that throws into question everything the 5 of them have ever known.
When trouble calls, Dash wants an obvious goal, a big bad monster to defeat, but now the only thing she can see in front of her are all her friends.
Chapters (6)