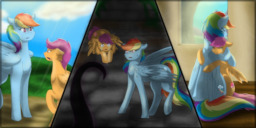 For as long as she can remember, Scootaloo has lived in orphanages, not knowing the identities of her parents. She's happy enough in Ponyville, but deep down she still wishes she had a real mom and dad. So when she's given an assignment to write about her family, she starts looking for answers.
What she finds will shock her.
---
Sort of done as a response to a prompt by Phoenix Nebula.
EDIT: Re-wrote part of chapter 1, and edited later chapters so they make sense with the rewriting.
Another Edit: Dang, 2000 views

, you guys are awesome
New cover made by Scarlet's Feed
Chapters (5)