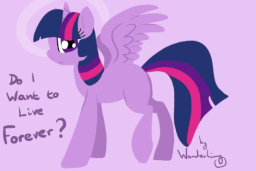 After a talk with Princess Celestia and Princess Luna, Twilight Sparkle is left confused. The Sisters believe that there may be a way for her to become like them. A way for her to become nigh-immortal.
Twilight isn't sure what she wants.
With no idea how to move forward by herself, she looks to her friends for advice.
Chapters (2)