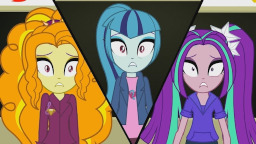 It has been a month since the whole battle of the bands fiasco. Everyone is going back to their regular day to day routine. Go to class, sit in class, go to lunch then go to class again.
Sunset Shimmer on the other hand is given the task of helping a fellow student fit in the school. Though, there's one problem this "fellow student" is someone who might have tried to take control of the school with her two companions.
Follow Sunset Shimmer as she learns of has become of the former Sirens. Will she help those who were just like her?
Cover image taken from this https://www.youtube.com/watch?v=JvBwiqWHX-4
Chapters (3)