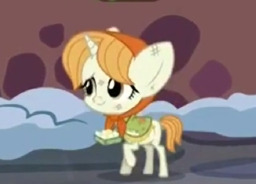 In the city of Snowfall Frost, this Hearth's Warming Eve has another story.
Imagine, if you will, a match flame. Scratch!
Such a warm, bright little thing. So filled with joyous, promising hope as its dance reflects in your eyes. A delicate wonder, flitting and shivering in the cold wind, struggling to cling to its thin post. Easily taken for granted—easily forgotten. Well, that is what this story is about. You can find such a little flame on the busy street corners of an old town in Equestria. This little flame is the little match mare.
Chapters (1)