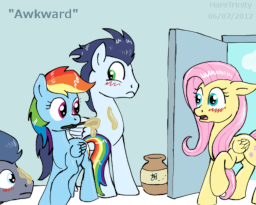 After Winning The Young Fliers Competition She Gets Her Prize. But It Has To End Abruptly As Somepony Walks In On Some 'Honey Painting'. It's Awkward, Weird And.... A Misunderstanding. Fluttershy Doesn't Really Know What To Do.
Cover Art By: HareTrinity
Sex tag for some language. No romance tag as there is only a bit of blushing.
Also, It's kinda random.
Chapters (1)