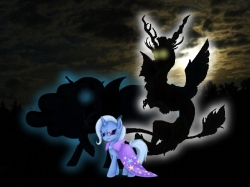 The Great and Powerful Trixie regarded herself as the greatest magical power in all Equestria until one fateful day - the day she was completely and utterly outclassed by Twilight Sparkle.
All of Equestria will suffer the consequences, as Trixie has vowed to become the most powerful magical being in the land at any cost.
Even at the cost of her soul...
(While it may be helpful to read "The Eternal Storm" before this to understand some of the backstory, it is not required to get the most out of this story.)
Chapters (11)