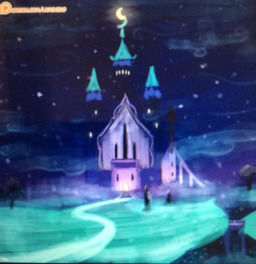 Source
In the Equestria we know Rainbow Dash did the legendary sonic rainboom, causing Twilight Sparkle to become the student of Princess Celestia. With her becoming the student of Celestia she's eventually sent to Ponyville to look over the preparation of The Summer Sun Celebration.
We all know that story, it started off the series. But with the meddling of Starlight Glimmer with the time, many alternate universes were created with the villains The Mane Six defeated taking over Equestria.
But one alternate universe was different. There is no chaos, there is no war, there is no misery, and there is no destruction.
That universe is one where Nightmare Moon rules as Princess. She rules with an iron hoof, but she keeps Equestria safe. With alternate universes the characters we love will be different. That includes The Mane Six.
We will see the lives of The Mane Six living in the reign of Princess Nightmare Reign.
---
Set in the Nightmare Moon universe not a side story of my other story The Nightmare Reign.
Just some short story I thought of when reading fics inspired by the season five finale.
Inspired by Rated Ponystar's Aftermath of a Fallen Star and Michy's The Clockwork Consequence
Proofreaded by Cola_bubblepop
Chapters (7)