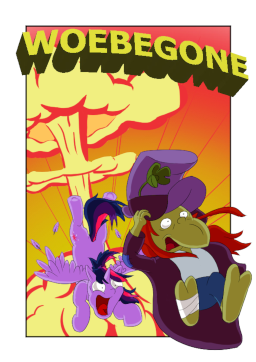 Oh it's bad luck to be Woebegone.
He's got nowhere to go or return to, but he can't stay where he is. For long at least. His presence is enough to bring disaster to himself and those around him, so this apologetic nomad of devastation and misfortune wanders around aimlessly.
Last time he was spotted, he was heading into Ponyville.
Edited by AlicornPriest
Preread by Troubleshooter and QuillpenTheStoryteller
*This story is cursed and may bring about bad luck to all who read it. Possible side-effects include: dizziness, déjà vu, stubbed toes, weasel bites, uncontrollable laughter, clogged toilets, sinking ships, flat soda, and dizziness.
Chapters (9)