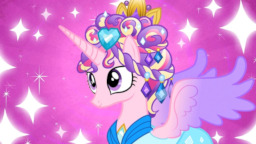 You are the only human in Equestria, and have taken residence in the Crystal Empire. After becoming a member of the Crystal Guard, you got to see your favourite candyfloss pink Princess everyday.
Recently, there's been an opening for the position of Cadance's Personal "Snuggle Officer". You will do anything it takes to become the newest Snuggle Officer, and nothing will stop you.
Not even Flash Sentry.
Chapters (1)