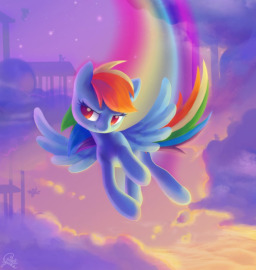 Source
Follow-up to "The Things We Leave Behind"
After years and years of hard work, Rainbow Dash has finally achieved her life's goal: becoming a member of the Wonderbolts. But when things don't go entirely as planned in her first Wonderbolts Derby, a promise from her past drives Rainbow Dash to tears. Will Rainbow Dash be able to overcome what she calls her only fear with the help of friends both old and new, or will the pressure simply be too much?
Title inspired by the song by SoGreatandPowerful.
Thanks to all of my proofreaders! You know who you are.
Chapters (1)