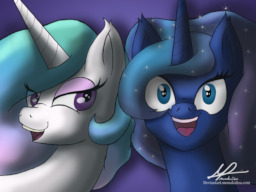 This story is a sequel to The Mane Six Regret Playing Truth or Dare
---
Months ago, the Mane Six played their first round of Truth or Dare. As a result, they ended up having a rap battle, learned about secret crushes, and managed to start a beautiful relationship between one of the Mane Six and a Wonderbolt. Since their first game, Starlight Glimmer and Spike joined the fun. This week is the same as always. But little do they know, two unexpected guests come to play.
The rules are simple.
1. If choosing Truth, you must tell the truth when some pony asks you a question.
2. If choosing Dare, you must perform the dare some pony dares you to do.
3. You cannot change your choice once you have selected something to perform.
4. You cannot choose somepony to dare you to perform something or ask you something.
5. The game ends at midnight when Princess Celestia and Princess Luna say it ends.
---
Featured!
Credit and big thanks to monakaliza on Deviantart for allowing me to use the lovely artwork!
It's recommended to read What Happens at the Lit Club... and The Mane Six Regret Playing Truth or Dare if you want to understand some stuff that's going on.
Chapters (13)