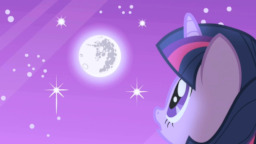 This story is a sequel to What Lies Beyond the Dance
---
Season 5 Spoilers
In a place beyond time itself Celestia, Chrysalis, and Discord play games with the fates of mortals. But why? And what could have caused such games to come about?
Only one being knows the full answer. Luna, witness to her sister's fall. She alone has lived countless lives as her sister remakes the world time and time again.
Her tale is tragedy, her suffering endless. But she must remember, for is both arbiter and victim of her sister's crime. So she tells her tale again.
Chapters (1)