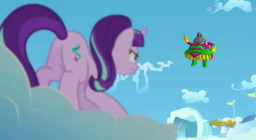 Welcome back to the Adventures of Dumplin.
When we last left our hero, he had defeated Demigra, become the new Demon God, and restored order to the timeline.
Choosing to stay on with the Time Patrol after noticing that he was the only one who could actually get things done, Dumplin completed many more missions, trained under new masters and learned their techniques, seduced Towa and made her his new Top Bitch, and established the Church of the Fuck Box. All in all, Dumplin has certainly come a long way since Trunks first summoned him.
Then one day, when someone new starts messing with time, Dumplin must travel to a completely new world in order to stop them.
My Little Pony: Friendship is Magic is copyright of Hasbro
Dragon Ball Z is copyright of Akira Toriyama
Dumplin is an OC created by Team Four Star
Chapters (2)