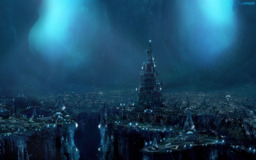 Shadow Flame, a pegasus filly in an underground city, loves to go exploring. And nothing will stop her.
---
Cover art by Numaga (I assume, because that's the name in the top right corner).
This story was written as a request from a user on the Legend of Equestria forums (posted with his permission) in an attempt to improve my writing (in a 1000 - 2000 word limit). There will hopefully be more stories requested from me in the future, so stay tuned!
Chapters (1)